Visiting Scholar at the Center for the Study of Emotion and Attention
Maimu Rehbein, a visiting scholar at the Center for the Study of Emotion and Attention, has been at the University of Florida since January.  During her time here, Maimu hopes to acquire a broader perspective and gain exposure to diverse methodologies that she will bring back to her university in Münster, Germany.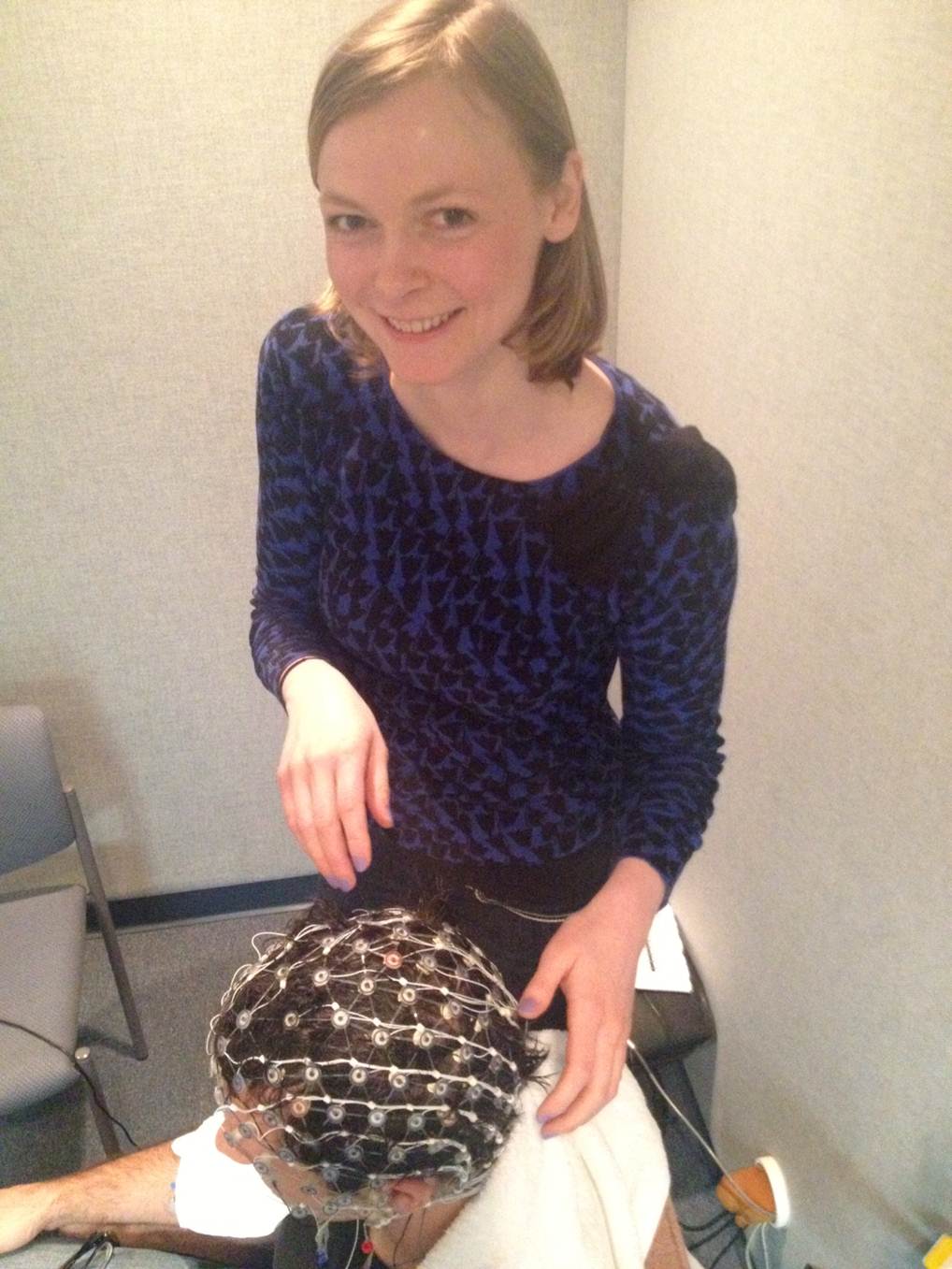 Maimu is spending several months working with Dr. Margaret Bradley and Dr. Peter Lang studying emotional stimulus processing in the brain and body.  Concerning her research goals, Maimu says "I hope that in the long run my research – combined with all other results of the scientific community – will help to understand the mechanisms of fear, anxiety, and anxiety disorders".  She hopes that the knowledge gained by her research at UF will contribute to curing and preventing emotional disorders. 
Maimu chose to come to UF in part because she had heard good reviews of UF's CSEA from colleagues in Germany.  About her workplace here, Maimu says "The CSEA has an outstanding knowledge about how to measure bodily reactions.  So, for me, the main reason to come here is to acquire a certain expertise and to bring it back to Germany".  Maimu will have the opportunity to work in a new environment and she conveys that she is "eager to spend some time in another lab in which the scientists put emphasis on other aspects of the research."  Maimu's lab in Germany specializes more on the brain, while her lab at UF looks at the brain and body as well.  Maimu feels that studying in a lab with a different focus will broaden her perspective and expand her knowledge. 
So far, Maimu is enjoying the relaxing aspects of Gainesville and the opportunity to appreciate just being alone in nature, a pleasure she describes as rare in her home country.  She looks forward to visiting the multiple rivers, trails, and forests of Gainesville and familiarizing herself with the nature of North Florida.  With plans to venture to the Keys, New Orleans, and California, she is excited to embark on new adventures.  Maimu really enjoys living in a foreign country and says "spending some time abroad will be a great experience."
While Maimu's adjustment to life in the U.S. has not been too difficult, she has encountered cultural differences in social gatherings and public settings, such as restaurants.  She finds the restaurant experience in the US to be slightly disconcerting due to the convention of elaborate table service to earn tips. She also thinks that Americans could learn a lot from Germany's environmental awareness and conservation efforts.  Overall, Maimu is still very excited about being in the United States; she hopes to meet people who share her interests and to join a club for tap dancing, playing the saxophone, and outdoor activities. 
When she returns to Germany, Maimu will miss not only the friendliness and easy going lifestyle of Gainesville, but also its trademark school spirit:  Wearing school colors, cheering for school teams, and having school parades are not common in Germany.  She concludes that pride in one's hometown inspires the initiative to become active in the community, ultimately strengthening its sense of identity.