Study Abroad Fair
Wednesday, January 30th 2013, from 10am to 3pm. Reitz Union Colonnade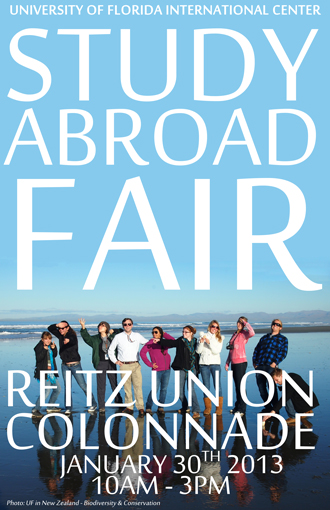 Study in another country and see the places you've only read about. Explore the Colosseum in Rome. Smell the lavender in Provence. Stroll the medina in Fez. Eat tapas with the locals in Seville. The world is your textbook when you study abroad.
At the fair, students can meet UF faculty members who lead study abroad programs around the world, as well as students who have recently been abroad. The fair also includes other universities and institutions that offer UF-approved study abroad programs and internships.
Most forms of financial aid are available for students studying abroad. A representative of Student Financial Affairs will be on hand to answer your questions. There are also many scholarships available.
Students considering study abroad must apply to the International Center (170 Hub). The deadline for study abroad during the Summer is ealy March and the Fall semester and academic year is early April. The deadline for the Spring semester is in middle October. It is never too early for students to begin mapping their study abroad plans, as approved study abroad can count towards degree requirements such as General Education and summer study abroad counts towards the 9-hour residency requirement.
The Study Abroad Fair is an excellent way for students to begin planning an exciting educational journey. This year, more than 2,000 students studied abroad!