Study Abroad Fair
Wednesday, February 4th 2015, from 10am to 3pm at Plaza of the Americas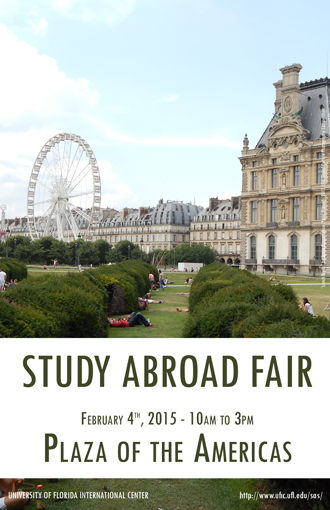 Study abroad programs help students discover new cultures, increase global awareness, enhance foreign language skills, make new friends and establish new contacts.  Overseas internship opportunities are also available.  Most financial aid can be used for study abroad programs.  And, study abroad programs can be used to satisfy summer residency requirements.
University of Florida study abroad program directors, independent program providers and former study abroad students will be available to share their international experiences.  The UF International Center, Study Abroad Services staff will be available to explain the application process and help students begin the steps to find the right program.  Other universities and institutions that offer UF-approved study abroad programs and internships will also be available to help students navigate their way through the many study abroad opportunities.
UF student organizations will conduct performances throughout the day.  So, come to the UF Study Abroad Fair on February 4th and discover your study abroad possibilities!
Become a "Global Gator" today! 
"Twenty years from now you will be more disappointed in the things you didn't do than by the ones you did do.  So throw off the bowlines, sail away from safe harbor.  Catch the trade winds in your sails.  Explore. Dream. Discover." – Mark Twain