Study Abroad Fair
Wednesday, September 20th 2017, from 10am to 3pm at the Reitz Union North Lawn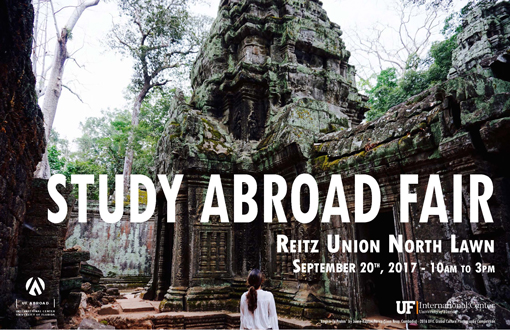 Study abroad programs help students become engaged in new cultures, increase global awareness, enhance foreign language skills, study major and minor coursework through a new lens, as well as make new friends and establish new contacts. In some locations, students will find that overseas internship or research opportunities are available. At the UF study abroad fair, students can learn more about the vast array of study abroad options available to them. While exploring programs, students should note that most financial aid can be used for study abroad programs and that summer residency requirements can be satisfied through participation in a large number of summer study abroad programs!
UF study abroad program directors, independent program providers and former study abroad students will be available to share their international experiences at the fair. The UF International Center staff will be available to explain the application process and help students with the first steps to find the right program for them. Other universities and institutions that offer UF-approved study abroad programs and internships will also be available to help students navigate their way through the many study abroad opportunities.
Come to the UF Study Abroad Fair on September 20th and discover your study abroad possibilities!