Study Abroad Students
Studying abroad is an exciting opportunity for students to develop critical thinking skills and overall independence.  Before choosing a program, it is important to consider what type of program would be a best fit for you and your desired experience.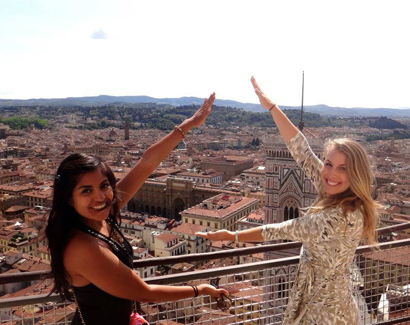 The SAS unit is responsible for all aspects of a student's study abroad experience. A team of six advisors is on staff to advise prospective students on programs that meet both their academic and personal needs, walk them through the local and overseas school's application processes, evaluate overseas transcripts, and assist with the predeparture and re-entry experiences. The Study Abroad Services staff plays an integral role in new program development, and is responsible for all risk management issues pertaining to study abroad, including emergency procedures, faculty training and insurance enrollment. SAS manages study abroad course registration and works with the financial aid office to ensure the smooth transfer and disbursement of student aid.
UFIC Study Abroad Services is specifically authorized by law, Florida Statutes Sec. 1009.98, to collect and use social security numbers solely for the purpose of invoicing the Florida Prepaid Tuition Plan on the student's behalf. For questions about the collection and use of social security numbers, please click here.