Innovation for International Development Symposium 2013
Garrick Louis, Ph.D., Keynote Speaker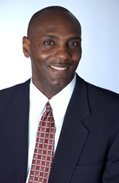 Garrick Louis is Associate Professor of Systems Engineering, with a courtesy appointment as Associate Prof of Civil and Environmental Engineering at the University of Virginia. He is the founding director of the SID Center (Small Infrastructure and Development) at the University, and Director of the not-for-profit Development inter-Action Inc.  (DiA) that provides technical assistance to small water and sanitation infrastructure projects in developing communities. He is a principal in Design-in Alternatives, (diA, LLC), which provides design-build services for small water and sanitation projects in rural areas in selected countries.
Prof. Louis' research develops approaches to provide sustained access to infrastructure-based services as a step toward sustainable development in low-income communities. His emphasis is on drinking water supply, wastewater and sewage treatment, municipal solid waste management, and household energy in rural areas. The research is conducted at sites in Central Virginia, South Africa, India, and Nicaragua.
Prof. Louis received his BSc in Chemical Engineering from Howard University, his MSc in Chemical Engineering from Rensselaer Polytechnic Institute, and his PhD in Engineering and Public Policy from Carnegie Mellon University. He received the 2000 Presidential Early Career Award for Scientists and Engineers from the National Science Foundation and is a 2006-7 AAAS Energy Environment and Natural Resources Fellow.