International Education Week
Picture Yourself Connecting with the World!
November 12 – 16, 2012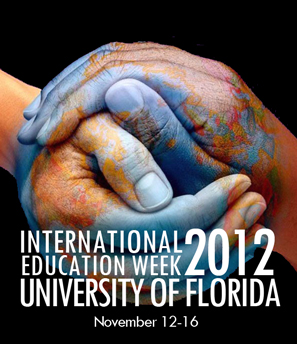 International Education Week (IEW) is an opportunity to celebrate the benefits of international education and exchange worldwide. This joint initiative of the U.S. Department of State and the U.S. Department of Education is part of our efforts to promote programs that prepare Americans for a global environment and attract future leaders from abroad to study, learn, and exchange experiences in the United States.
The University of Florida is proud to be a part of this event. With more than 5,000 international students from over 100 different countries, nearly 2,000 international scholars and faculty on campus, and over 2,000 students who study abroad in over 50 countries, UF is proud to offer countless opportunities for international engagement among students, faculty, staff, and the community at large.
Use the side menu to find all the daily activities, exhibitions and displays to be offered during this event.
Colleges and departments holding IEW activities who wish to promote their events through the International Center should contact Mabel Cardec at: mcardec@ufic.ufl.edu or 352-273-1515.